Exporting to a Player
The Ultimate Guide to Gideros Studio
Exporting your project
Before you can upload your project to your device or a store you need to export it. Fortunately, this is one of the easiest thing to do using Gideros Studio!
Gideros Studio, File->Export Project. You can also click the icon "Exports current project" or use the shortcut CTRL+E.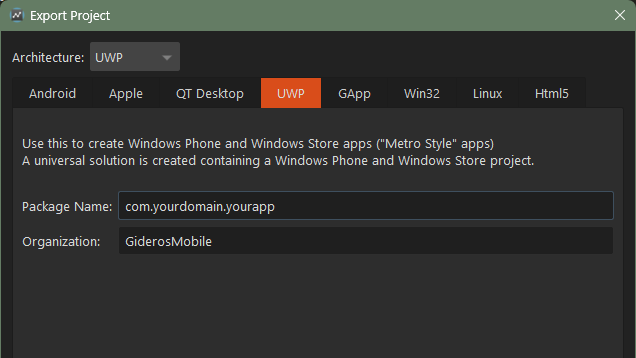 You then choose the platform you want to export to.
Android
In order to export to Android, you need to have Android SDK and Java Development Kit (JDK 11+) installed on your system.
It is recommanded to install the executable versions of both Android Studio and JDK, as this will allow Gideros Studio to automatically setup all the path for you.

To output the android studio project, select neither Build android bundle nor Build apk file: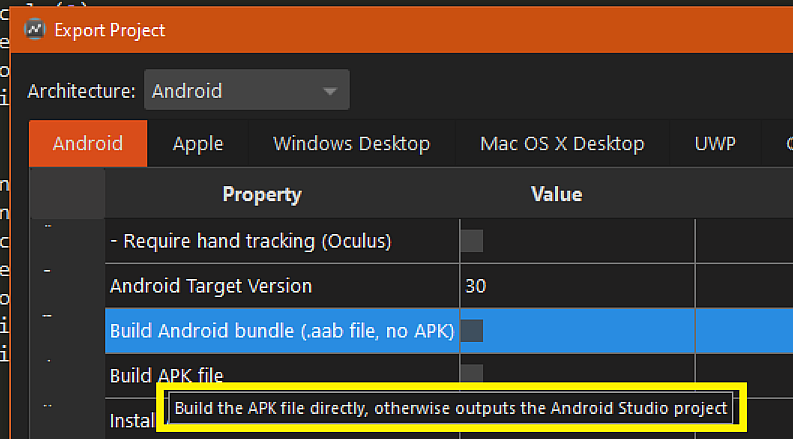 To disable android libs, in your project add the Require plugin and double click it to see the options:

All the other settings are straightforward. Easy Gideros!
iOS
When exporting for Apple platforms, Gideros will output an Xcode project. Some plugins relies on CocoaPods. so be sure to have it installed before exporting your project. See here: https://cocoapods.org/
Once Gideros has exported your Xcode project, open it, using the .xcworkspace if present and the .xcodeproj otherwise. Select the target you want to deal with (iOS, AppleTV or Mac) in the run schemes, and select your signing identity under the project->target properties.
Eventually configure other features your app needs and launch your app for testing. When OK, you will be able to 'Archive' your app for app-store distribution.
macOS
Gideros Studio, File->Export Project
Windows Desktop
Gideros Studio, File->Export Project
Windows x86
Gideros Studio, File->Export Project
UWP
Gideros Studio, File->Export Project
XBox One
Gideros Studio, File->Export Project
Since 2018, XBox One UWP games have access to 6 exclusive CPU cores, 5GB of RAM, and full access to the GPU for Direct3D12-based games.
First, you need to export your player using the UWP guide (see above), then you need to add being able to develop for the XBox One to your Microsoft developer account (if you have not already done this). The guide below shows you how to do this and how to send your UWP player to the XBox One.

To set up an XBox One dev account you can join id@xbox: https://www.xbox.com/en-GB/developers/id
It's also possible to develop on the XBox One using the Creators programme: https://developer.microsoft.com/en-GB/games/xbox/xboxlive/creator
Normally there is a $20 (personal) $99 (business) one-off fee for publishing on the Microsoft store, there are various schemes from Microsoft to receive a voucher, for example, if you are a student: https://azureforeducation.microsoft.com/en-us/Institutions

You may need to install the 'Dev Mode Activation App' on your XBox One and the ID of the XBox One console entered into the Partner Center. For all this, see: https://docs.microsoft.com/en-us/windows/uwp/xbox-apps/devkit-activation
The actual Dev Mode Activation App can be found here: https://www.microsoft.com/store/productId/9VWGNH0VBN60
Make sure your XBox One is in Developer Mode by starting the 'Dev Mode Activation App', this can take a long time - you may think it's broken, it isn't!
To activate, the link didn't work from the XBox One, I had to enter the code by pressing + here: https://partner.microsoft.com/en-us/xboxconfig/devices/index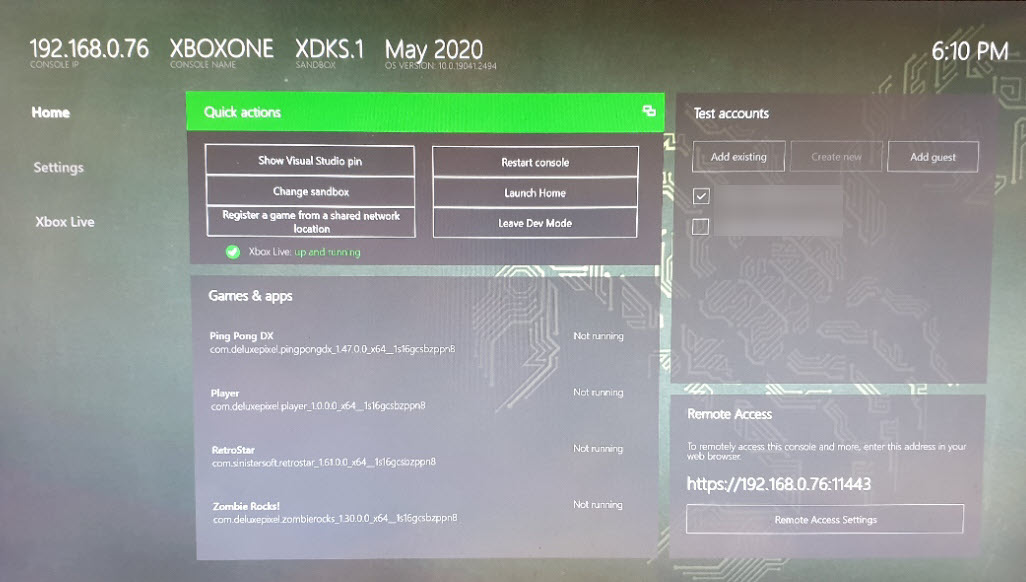 On the XBox One in dev mode, you will have to add an 'XBox Live' test account. It has to be an existing 'XBox Live' account (it doesn't need to have a Gold subscription). It needs to be 'logged in'.
Note: In dev mode you can press the XBox icon on your controller to see what looks like a normal XBox One menu system, here you can setup Wifi, etc. It won't already have the settings from the normal (none-dev) XBox One menu - it's like having two completely different XBox One consoles.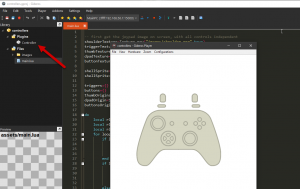 Install Visual Studio 2019 (the latest Community free edition will do fine).
In Gideros Studio, add controller support to your game (see the "Controllers" plugin), you can test on the Gideros player before the export.
Export to UWP. Open the exported folder when asked at the end of the export by clicking 'Show'.
Double-click the 'giderosgame.sin' file, if asked set the default program to Visual Studio 2019.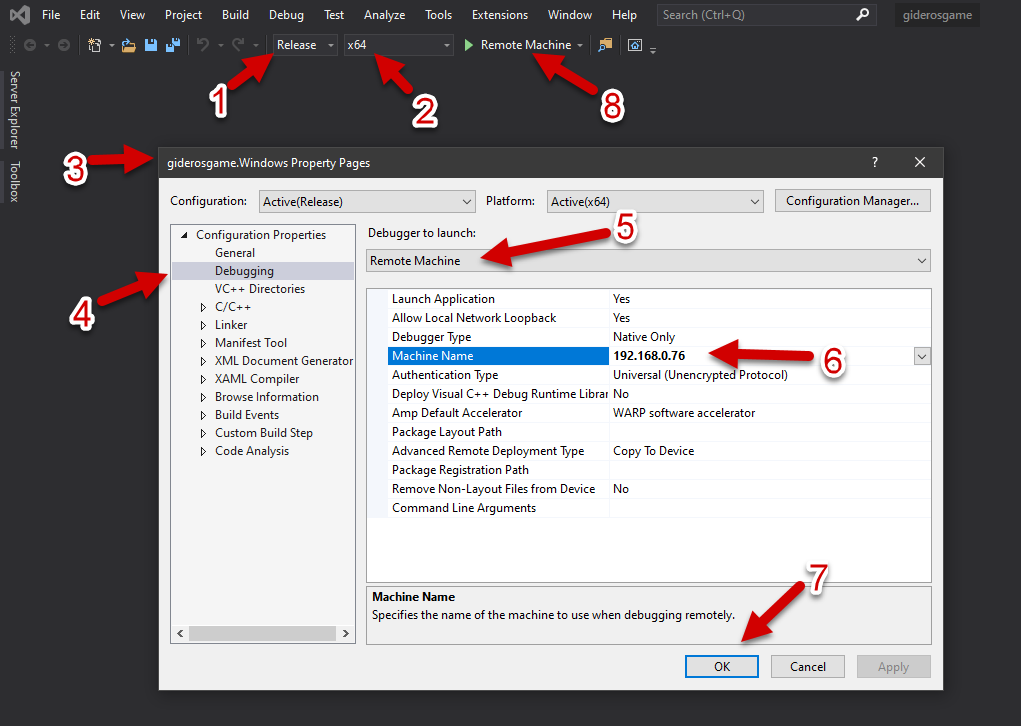 Once Visual Studio has finished loading your game, change the Debug dropdown item in Visual Studio to 'Release' (1), and the output to 'x64' (2).
Click on the 'Debug' menu item at the top of the screen, select the project properties (bottom item) for your game (3).
Select the 'Debugging' properties for the project (4). Change the setting from 'Local Machine' to 'Remote Machine' (5).
Set 'Machine Name' (6) to the hostname or IP of your XBox One (in developer mode).
Set 'Authentication Type' to 'Universal (Unencrypted Protocol)', normally this is already the default.
Click 'ok' to exit Properties (7).
Now click the green 'Play' icon (8) in the toolbar to send the game to the Xbox One. The game will be built and installed on the console.
Sometimes Visual Studio will prompt for a pin, on the XBox One in 'Dev Home', click 'Show Visual Studio Pin' to see this pin.
If you export a player to the XBox One then you can use that for really rapid development - sending your game code and assets across in seconds.
If you get an error:
If you get an error like "Error C2567 unable to open metadata in 'c:\program files (x86)\microsoft visual studio\2019\community\vc\tools\msvc\14.25.28610\lib\x86\store\references\platform.winmd', file may have been deleted or moved"
It means that Microsoft have updated the lib since the Gideros Template was created. You can fix it with this simple 'hack':
Look in c:\program files (x86)\microsoft visual studio\2019\community\vc\tools\msvc\
Copy it as this name: "c:\program files (x86)\microsoft visual studio\2019\community\vc\tools\msvc\14.25.28610" (or similar)
The Stores
Google Play
The Google Play Console can be accessed here: https://play.google.com/apps/publish/
Apple's App Store
Apple's App Store Connect can be accessed here: https://appstoreconnect.apple.com/
Facebook for Developers
Facebook for Developers can be accessed here: https://developers.facebook.com/apps/
Windows App Store
Windows App Store can be accessed here: https://partner.microsoft.com/en-us/dashboard/windows/overview

PREV.: Hardware and OS
NEXT: Making a Plugin